Abilities
Edit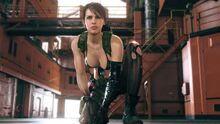 Ultimate Regeneration
Superhuman Senses
Superhuman Speed
Superhuman Strength
Superhuman Stamina
Intangibility
Invulnerability
Invisibility
Sharpshooting Skills
Advanced Combat
Breathe by Skin
High Agility
Reflexes
Clairvoyance
More Info
Edit
If quiet didn't show black markings appeared on her skin all her abilities will be disable and she will be a person as normal human.
Also, submerging her in water could suffocate her like normal humans, even in black markings. but If she died by suffocate or any damage, exposure to direct sunlight would immediately resuscitate her.
Intangibility, allowing her to escape from restraints while her powers were active. This appeared to be the parasites manipulating her density, mass or state of matter, allowing her to become partly gaseous.
With her visual acuity, Quiet could combine with any speed to allow her to shoot the space between target and his speed.
Personal Info
Edit
Name: Quiet
Age: 27
Gender: Female
Nationality: Germany
Ad blocker interference detected!
Wikia is a free-to-use site that makes money from advertising. We have a modified experience for viewers using ad blockers

Wikia is not accessible if you've made further modifications. Remove the custom ad blocker rule(s) and the page will load as expected.